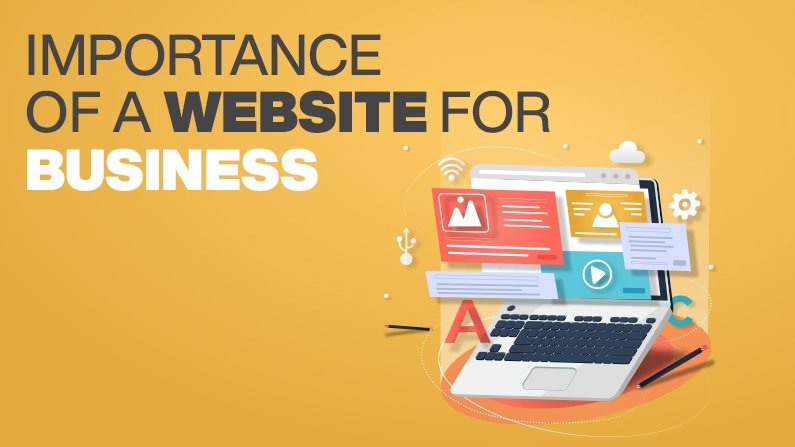 Do you know, why a Website is important for business growth? Having a website is an important way of building an online presence of a business in an inexpensive way. It is something that can fetch you much beyond your investment! The gate to super normal profit these days is a comprehensive and relevant website. If you don't have an online outreach, your company is viewed as an obsolete one in terms of its services.
So, having said that, we hereby list out to our readers and clients, the reasons why having a great website is imperative for an increasing graph of business growth-
Search engine brings you 93% marketers: For attaining new clients and customers, the need of the hour is to understand what your potential customers search and where they head to, while they want suppliers. As far as the present digital market is concerned, people head to the internet for searching for anything, and everything! Some of the renowned places on the internet are Google, Yahoo as well as Bing. To our utter amazement, these three business giants envelop over 91% searches of the market. According to a survey, every 6th search on the internet is done through google. Now you see how imperative it is to have an online market standing. Owing to the aforementioned data, if 91% of business search results catalyze business decision-making, then not having an online pedestal can make you lose out on more than half of your potential client. What advertisement is to sales, the same way, search results are to clients! So, gear up and get on the trend with digitalization!                                   
Professionalism: Second reason, why a website is important indicates that being a part of the commercial realm, we all are well aware of the notion that professionalism is must-have ethics for a business! But professionalism is not something absolute, it's a relative thing, which alters with time. And owing to the current business environment, professionalism is inclusive of having a well comprehensive online outreach to your potential buyers! Not having an online outreach out shows the lack of management in your company. Why would someone want to invest in a doubtfully credulous venture, when there are relevant competitor companies available in the online market? According to data, 80% of people don't want to be a buyer to an unlisted and offline company in the current market.
Easy access: It is an open card that as soon as you have an online outreach it becomes quite an easy task for you as well as the potential buyers to reach out to you. It gives them a chance to understand your company from their own perspective by reading about your venture, services therein, and obviously reviews! It leaves room for them to have all their doubts and questions answered. But if you don't possess a website, then you lose out on all of this and have limited and local outreach. A website ensures that your services and brand name don't lose out on the buyer's vision! It is often argued that companies show up by way of location when they are too famous. But what happens by chance. And for a cut-throat competition like today, we don't think leaving things to chance is a wise idea. Not just that, but not having an online presence, gives an impression to the buyers of your company being out of service. And of course, people won't want to invest their valuable time in calling you instead of reaching out to another company that shows well comprehensive results for its name search. Above all, why leave room for competitors to lower your market worth, when you can exhibit your services online right away, that'swhy a website is important.
Excellent Marketing Vehicle: Having possessed a website is a miraculous marketing vehicle. You extract the utmost benefit with the least cost incurred. All you got to do it rent your business one of the best website designers of the market, and you are all set to go ahead! Its cost generally ranges up to $15000. Its price is directly proportional to the professionalism you want your site to exhibit! The additional costs are inclusive of website hosting charges, which is again very cheap! Now, having understood the cost to be incurred for this, let's move on to other marketing methods. Looking at the graph, now that you have a fair idea of the most feasible advertising vehicle, head straight to having a website designed!
Long-lasting value: Having developed a website for once in your business tenure, it renders you the service of a lifetime! There are zillions of advertising vehicles, but all that they do is fetch you, temporary customers and clients. But once you come to terms with a

quality website designing company like

Sasti Website you have an online establishment of your company for years! Get us? No? Okay, so for instance, in order to advertise your services, you pay for an ad to a newspaper. Now that payment is limited to the point till your ad is there in the newspaper. Also, it doesn't guarantee you a successful return on your investment towards that ad. The same applies for other things, like Facebook, Google Ad words, etc. But having invested in website development for once gives you a lifetime chance to have your return on investment. It doesn't exhaust with the exhaustion of one single ad.
Opportunities Overseas: Having an offline outreach may make you a venture is well known in your local area of conduct. But having an online outreach through a website provides your venture a worldly pedestal to stand on! Anybody from anywhere around the world in a need of similar kinds of services can search you out online. Also, having your business in a quick mobile product line makes it much more easy for you to enhance your customer base as well as potential. And even if it's not a mobile product line, and you need to have F2F session with your customer, you still stand a chance to be looked at by them who are beyond your geographical outreach! For instance, some days ago, one of my write-ups on a blog page about cancer had a comment from a girl from America, and she talked of how the write-up helped her to get her cancer diagnosed! Had it not been through a website, I would have never reached out to her and helped her! That's what a website can be to you and your business!
Self-Consumer Support System: It provides customers with a C2C interaction platform. Not just this feature enhances your customer base and potential but also it binds them in solidarity as a family of customers from 'XYZ Ltd.' For instance, a customer is baffled about something purchased from your company. Now as soon as he posts his doubt about the product on your website's comments or reviews section, he gets a response from another customer in the clearance of that doubt. Now you see how conveniently it all happened without having to lose any time and even a customer. Also, by this, they are visiting your website time and again. And by that, there's an entire customer base that is getting attached to your extended business family. At the same time, now that such a question will again crop up on the internet, your website result will be shown at first. This way it enhances business prospects for you and also saves your productive time. Hope, now its clear why a website is important.
So, if you are yet planning to have a website for your company, we would suggest you
turn this plan into action!
Once you have it designed by a top-quality website designing company, you are all set to reach out to your overseas as well as home customers conveniently. For companies, which want to go on a budget-friendly and low-cost website designer, we would recommend you Sasti Website, as they are too cost-effective
in their services.
& for companies that need standard and high affordability design, we would recommend you reach out to
SEO Designs
for the same
!